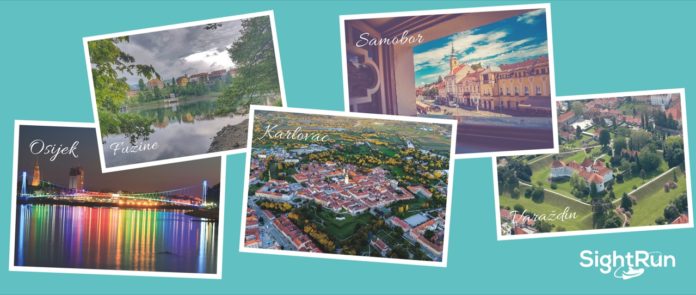 The continental part of Croatia can indeed offer a unique travel experience. That's why SightRun App added five new running tours in this part of Croatia
Our running startup SightRun brings a good news – they've added five new destinations to their list of free sightrunning tours. They show their contribution to the promotion of Croatian running destinations through new tours for the destinations in the continental part of Croatia. The idea came through a entrepreneurship program Pokreni nešto svoje. The chosen destination are greeted by local tourism boards that gave their support to the project.
In addition to 9 Croatian destinations, the list of runner friendly destinations this time includes also Samobor, Karlovac, Fužine, Osijek and Varaždin. As they say, some of the cities were chosen because they are connected with them, in some they grew up, in some they ran beautiful races, in some they went because of the nature and in some because of the food and interesting events.
All tours are still circular in length between 5 and 7 kilometres. In Fužine you will enjoy running by the lake and listen some interesting stories about the surrounding area. Karlovac will surprise you with its parks, promenades, the river Koran and the old town. Samobor will reward your activity with delicious local delicacies and entertain you during carnival times! Varaždin, which many do not know was once the capital of Croatia, a city that is adorned with numerous Baroque palaces, and which is a must seen place at the time of Špancirfest. And lastly – Osijek, a city on the Drava River, where you will always be a dear guest of Slavonians.
All tours are available in Croatian and English. The SightRun app is still free for everyone and is available on Google Play and the App Store.
Google Play: http://bit.ly/SRonGP
App Store: http://bit.ly/iOS_SightRun
www.sightrun.com
https://www.facebook.com/sightrunapp
***
SightRun is a free mobile application that provides a new dimension of running, combining this activity with sightseeing. With the app this is possible at any time of the day and all that one needs are the earphones. It is an innovative tourictic product that presents destinations as Runner Friendly and brings this interesting niche closer to the destination through stories of local delicacies, cultural and historical sites, natural attractions … The application uses the GPS system of a mobile device so it doesn't matter how fast the user moves. Tours are available in a total of 16 destinations, 14 of which are Croatian and Munich and Graz.
SightRun is also a multi-award winning Croatian running startup – Startup Factory 2016, Women Invest 2017, Next Incubator 2017, My Zaba Start 2018, Start Your Own 2019. The project was designed by Ivan Videk, Hrvoje Horvat, Tamara Markotic and Sandra Bortek.