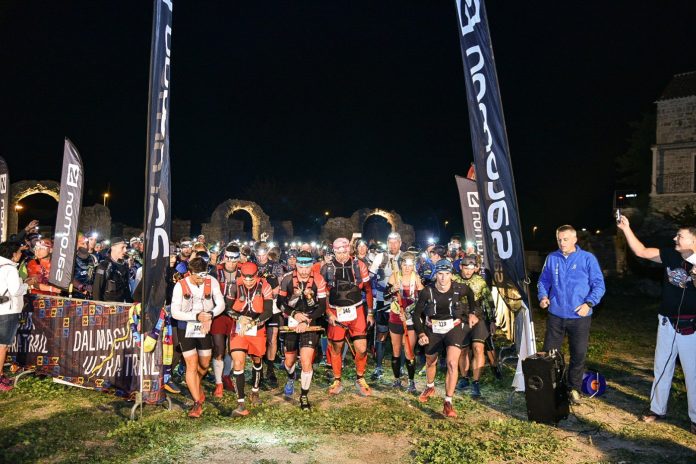 Fourth edition of Dalmacia Ultra Trail once again delighted over 700 runners from 30 countries with the stunning beauty of its diverse natural and cultural landscapes, as well as with excellent organization. The winners of this years' longest discipline, 118 km long Mountain DUT are Gilles Klipfel from France (14:43:43) and Juliane Ilgert from Germany (19:08:46).
PR article
Photo: Krume Ivanovski, Mislav Mesek, Marko Kadija
From October 18th to 20th the proud pirate town of Omiš on the mouth of river Cetina hosted the fourth edition of the spectacular Dalmacija Ultra Trail Race. The impressions of all contestants were unanimous: this extremely beautiful and tough race which, for its landscape diversity, technical difficulty and excellent organization, deserves its place among the best European and worldwide ultra-trail races.
The course of the race included Dalmatian mountains Kozjak, Primorska kosa, Mosor, Omiška Dinara and Biokovo, as well as the impressive canyon of river Cetina. Impressive is also the word to describe this years' night start of the longest race, Mountain DUT, in the stone amphitheatre of ancient Salona. Lit only by torches and moonlight, with the rhythm of drums, the runners started their 118 km long adventure, which would last 14 hours for the fastest, and as long as 30 hours for slowest contestants!
"This is technically a very difficult race; I broke both my poles at the very beginning of the rough karst course. But it's truly beautiful!", said Gilles Klipfel from France, winner of Mountain DUT.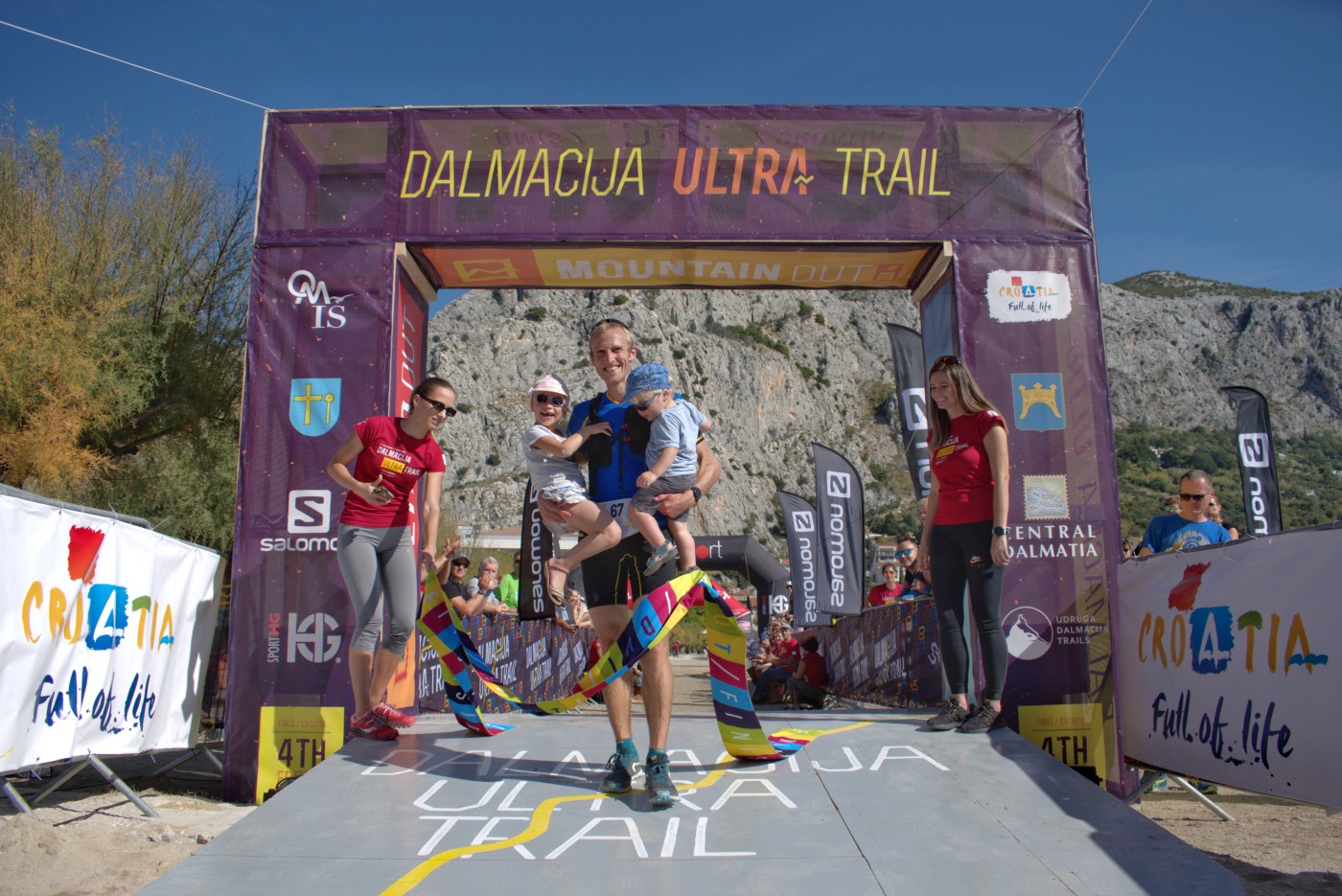 "I had expected it to be a technically difficult course, but it was even harder than I thought. All in all, a fantastic race, fantastic organization, everything was great," proudly said Pavle Kruljac from SRK Alba Labin, fastest Croatian runner who took second place in this race.
Except for the 118 km long Mountain DUT, the runners could also compete in two shorter races: 54 km long Sea DUT that started in Makarska and 18 km long Ethno DUT that started from Dugi Rat.
"I love this race! DUT is like the silver lining of the racing season", said Ajda Radinja, the incredible overall winner of Sea DUT, who ran 54 km in 6 hours, 19 minutes and 58 seconds, almost 10 minutes ahead of the first man Michal Frankowski from Switzerland.
The running spectacle finished with the cutest, Kid's race on 1 km, a genuine yellow T-shirt stampedo at the beach in Omiš. More then 200 little winners predicted a bright future of trail running in Omiš and Dalmatia.
"I am very proud of our race growing over the years and getting more and more support from our fellow citizens as well as from institutions. It's nice to hear praise and nice words from competitors form over 30 countries, and I hope that we will continue to grow and get better every year", said race director Dragomir Čović.
Dalmatia Ultra Trail is organized together with the City of Omiš and the Omiš Tourist Board, with strategic support of the Split-Dalmatia County and the Split-Dalmatia County Tourist Board. This year the Croatian National Tourist Board also recognized the value of this event by supporting it thorough the project Sport Croatia.
RESULTS DALMACIJA ULTRA TRAIL 2019:
Mountain DUT 118 km – men
Gilles Klipfel (FRA) 14:43:43
Pavle Kruljac (CRO) 15:24:50
Jan Balduchelli (SUI) 15:56:56
Mountain DUT 118 km – women
Juliane Ilgert (GER) 19:08:46
Miluša Bošković (MNE) 19:55:12
Petra Kulić (CRO) 19:56:10
Sea DUT – men
Michal Frankowski (SWE) 6:28:37
Goran Lesjak (CRO) 6:51:27
Živko Tomić (SRB) 7:11:40
Sea DUT 54 km – women
Ajda Radinja (SLO) 6:19:58
Ines Jozić (CRO) 7:13:06
Eva Brockschmidt (GBR) 7:19:30
ETHNO DUT 18 km – men
David Ravnak (SLO) 1:40:19
Jarek Gniewek (POL) 1:40:51
Aleksandar Balazinec (CRO) 1:43:57
ETHNO DUT 18 km – women
Kinga Pachura (POL) 2:08:49
Marina Maslek (CRO) 2:18:05
Emilie Dufour (FRA) 2:22:21