One of the most famous, conceptually most interesting, and, organizationally speaking, top-quality races in Croatia is the 100 Miles of Istria race. The race has, in its short life span, gained a cult status in the runner and trail community. However, to reach this level, it had to start somewhere. This epic race will take place on 12-14 April. We talked to its founder and head of the organization, Alen Paliska.
By Martina Maloča
Active in Croatia: Tell us about the early beginnings of the race and the idea from which it set off.
Alen: In the beginning, we had little knowledge about trail running. We only had this fuzzy idea that it would be good to organize a really long trekking race on a familiar route marked with hiking signs. Since our club had a long history of organizing trekking and adventure races, it was only natural that the first edition was conceptualized as a trekking race with a map and control points. We were naïve to believe that only a dozen of Croatian trekking enthusiasts would register for the race. Once the registrations were opened, more than 300 competitors, from approximately fifteen countries, registered. It was then that we realized that we would need to mark the entire route for all the competitors to be able to reach the finish line. And this was actually how trail running in Croatia started.
AiC: What did the first race look like and how has it changed since then?
Alen: The first edition actually went very well since we had nice weather. There was no rain and no problems were encountered on the route. The first edition was actually an experiment that taught us about trail running in the most difficult way. For example, we had only 56 volunteers that helped us with the first edition, and none of them slept for three days during that time.
In the first year, we organized only two races. One was 100 miles long, and the other was 110 km long. The starting points of both routes were in Umag. The routes followed the Istrian hiking trail and finished in Koromačno. Later, we gave up on this idea and completely rearranged the route. Now, the race starts from several different towns in Istria, with a common finish line in the town of Umag, which is a well-known sports and tourism center.
AiC: 100 Miles of Istria has reached the status of a well-respected race on an international level as well. How did you make this happen?
Alen: Trail running in Croatia was, and still is, a brand-new sport, so it was necessary to convince the local population, the local government, and the regional authorities of the feasibility and the value of this project. In the beginning, the project was not well promoted and, once the event was over, we were often faced with financial shortfalls. However, the experience gained by organizing this event is priceless.
I'm proud to say that our organizing team is comprised of 28 hardworking, smart, and highly-competent members who largely contribute to the quality of the event. However, in order to be able to further develop our project, we had to transform our association into a tourist agency and a company. It was only then that we were able to enter the sports tourism market and the industry of high-quality, international events organization. Today, the event is organized by the company Sport box Ltd in cooperation with SRK Alba, together with the Istria County and the Croatian Athletic Federation as their partners.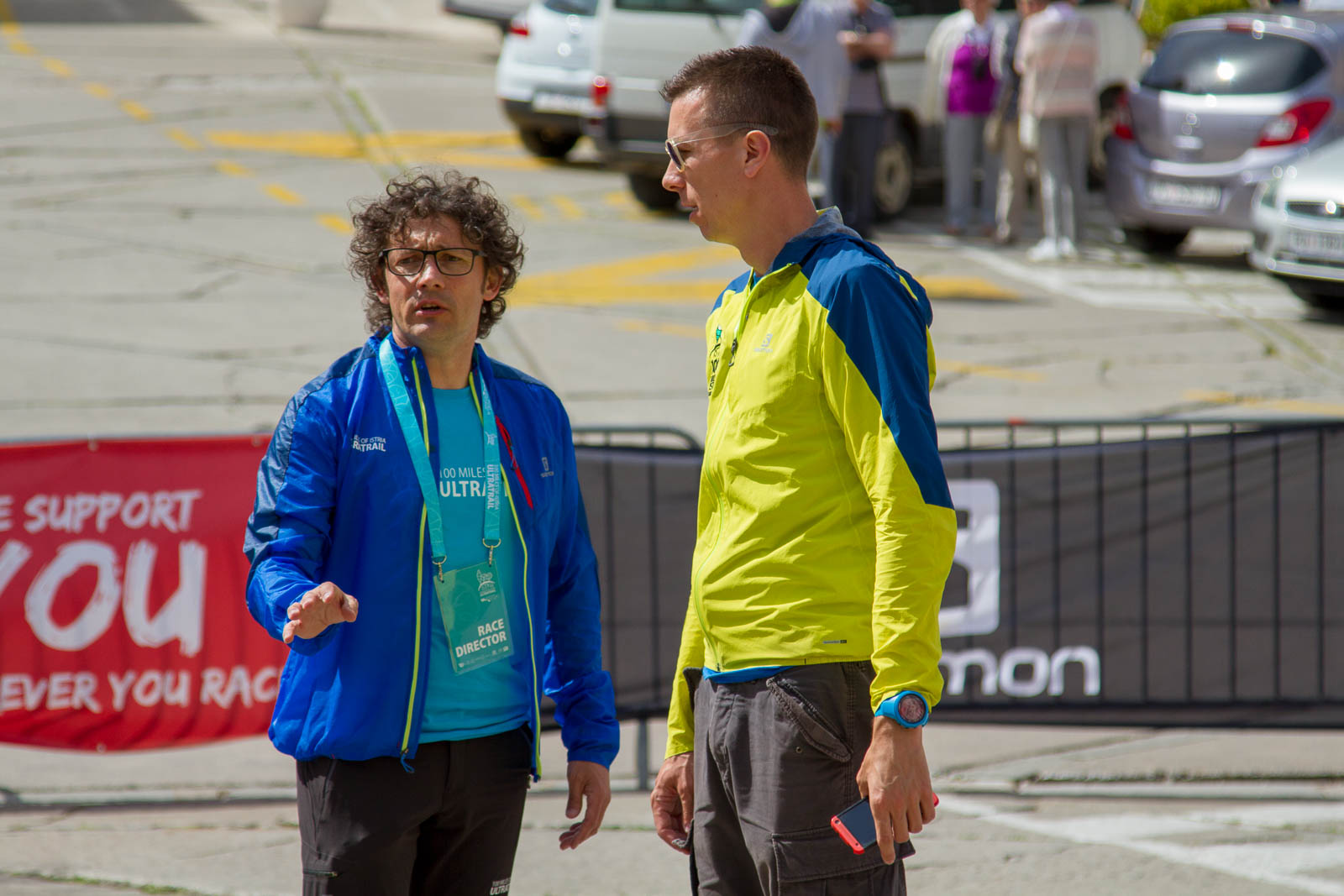 AiC: You're also a part of the international circuit for long distance trail running races, UTWT. Which criteria did you have to fulfill for that to happen?
Alen: After the first edition, we prepared a short-term and a long-term plan in order to be able to meet the conditions for joining UTWT in 2018. UTWT is basically an ultra-trail champions league, and we invested a great deal of energy, effort, time, and money in order to fulfill the conditions to be accepted into UTWT. However, in 2015, UTWT invited us to join them in 2016. Knowing that this was well ahead of what we had planned, we carefully considered all of the aspects and, although our financial situation was a big problem for us, we joined and have never regretted it.
In order to be able to even compete to join UTWT, a number of very important criteria have to be met. First of all, your organization has to be top-notch, you need to have a race longer than 100 km, at least 400 competitors from 20 different countries, and the race has to be held in a surrounding of exquisite natural value and beauty. Istria surely meets this criterion.
AiC: A significant amount of foreigners also take part in the race. Through which channels did they hear about it and what is it about this race, in this particular part of the world, which appeals to them? How many foreign runners and how many countries are on your list of applicants for the 2019 race so far?
Alen: We are extremely proud of the fact that a large number of foreigners participate in the race. What sets us apart from other races are low mountains, a very mild climate, and a route that meets all the criteria for trail running – a rocky seaside, rolling hills, a lot of single tracks, beautiful mountainous surroundings, vineyards, olive groves, and a dozen of mediaeval towns the route crosses. All this can be found in the ever-changing landscape of Istria. Last year we had 1652 competitors from 52 countries. This year, we expect that number to exceed 2000 competitors as there are currently over 2000 competitors from 59 countries who have already registered, so we will surely break the record for the number of registrations.
More information about our race can be found on our official website www.istria100.com or on our up-to-date Facebook page. However, complete information about the race can be found in our comprehensive Race Guide that is, I dare say, comparable to race guides prepared at the UTMB level.
AiC: Istria, unlike the rest of the Croatian coast, has a rather appealing continental part as well as a beautiful shore. Its outdoor tourism is also a lot more developed, so the setting for this race is God-given. For those who have yet to see it, what does Istria, as a region, has to offer?
Alen: Istria is a very popular tourist destination and has a lot to offer to its visitors. As you are probably aware, for years now, Istria has been one of the global leaders in the production of high-quality olive oil, while its wines have a global reputation. All this, combined with exquisite Mediterranean cuisine, makes Istria an ideal destination for family vacations. This has proven to be a winning combination for most of our competitors who often come to Istria with their families and extend their stay after the race, enjoying all that Istria has to offer. The race actually became a Superbrand of Istria and a decisive reason to visit Istria in the period preceding the summer season.
AiC: Unlike Velebit, Istria is not a mythical mountain covered in rough terrains with many rises, which, once you climb, you do not get down from until the very end of the race. Your race offers quite a bit of cultural and historical sightseeing as well. However, somehow you still managed to rack up quite a decent amount of height differences and make a very attractive and dynamic route. So, what does your race, terrain-wise, has to offer?
Alen: The Istrian Peninsula is a terrain with a lot of hills and only one mountain rising 1400 meters above the sea level. Thus, it was very difficult to plan a route that would encompass all the attractions. However, careful planning and continuous minor modifications of the route finally resulted in an optimal route with considerable elevation gain indispensable for the sports aspect of the race. At the same time, the route offers magnificent views of the Kvarner Bay and the islands, excellent single hiking tracks, a sense of freedom, and the opportunity to enjoy intact nature – while still being close to populated areas, thus minimizing hazards on the route.
The route passes through a dozen of mediaeval towns. Starting from Labin in the east – a town with a 2000 years-long history and the oldest populated town of UTWT; the route passes through dreamy towns of Plomin, Buzet, and Hum – the smallest town in the world, Draguć, Motovun – the pearl of Istria, Oprtalj, the forgotten Završje, artistic Grožnjan, and Buje and at the end reaches Umag in the west. There are only a few races in the world that are held in such mild, but at the same time, very arduous terrain, which is the main reason why our race has been so popular.
AiC: For those who are not in the best shape, but would still like to see Istria and be a part of this wonderful story, there is still a way – they can volunteer at 100 Miles of Istria. Being Croatian is not even a requirement. How can they apply?
Alen: That is correct. This event would not be possible without the effort of our volunteers and we are delighted to have such a close-knit volunteering community that is, in my opinion, the best in the world. For years now, our volunteers have been given the highest rates by our competitors, and their cordiality and kindness have become legendary. There is a strong feeling of closeness during the race and this energy is particularly spread by our fantastic volunteers.
More than 500 volunteers have been involved in the race and it is worthy to note that not all of them are Croats! On the contrary, last year we had volunteers from a dozen of foreign countries and we are glad to welcome them. The applications for volunteering are still underway, and potential volunteers may apply at stotinka.hr. In my opinion, volunteering is a great way to participate in the race and I would definitely recommend it.
AiC: Aside from the challenging terrain and the magnificent nature, what else does this race offer to the participants? Do they get any points for other international races? What about the start pack?
Alen: The most important thing to know is that the participants obtain ITRA points upon successfully finishing the race. These points can be used as qualification points for applying to UTMB. For those who strive for more, the finishers of the RED race automatically qualify for the Western States Endurance Run draw, which is a rarity in the world of races.
As for the start pack, we are dedicated to offering a high-quality start pack. Each of our competitors receives customized equipment manufactured in close cooperation with a renowned sports brand Compressport. Of course, such customized products may be purchased in our store www.sportbox.hr throughout the year.
In addition to this, I would like to emphasize the amazing atmosphere during the race. Our greatest value is that we try to provide a personalized approach to every individual competitor as much as possible. We see our competitors as people, not only numbers. We offer them a wide range of services that are usually not offered within other similar races. We are confident that our runners acknowledge and appreciate such an approach.
AiC: Besides the aforementioned race, SRK Alba can take pride in hosting a variety of attractive races – not only of the running-trail type. Could you tell us more about what else can one choose from?
Alen: 100 Miles of Istria is jointly organized by Sport box Ltd and SRK Alba Club. During the year, we have an impressive portfolio of sporting events that we organize in close cooperation. Apart from the 100 Miles of Istria race, we also organize a high-quality trail race called Valamar Trail. This race is held on the eastern coast of Istria, in the vicinity of Rabac. We also participate in the organization of races within the Istrian Trekking Cup. Sport box participates in the organization of Raša Night Trekking, held on 14 August, while the club participates in the organization of the oldest Croatian trekking race Compressport Istra Trek, which will be held in Žminj on 2 March for the 14th time. In cooperation with the Pokret odmora association, our company also organizes a well-known and attractive Adventure Race Croatia within the scope of Adventure Race World Series. For the first time this year, our company will also participate in the organization of Ocean Lava Triathlon in Vrsar (25–27 October). Also, SRK Alba organizes a children's race Urban Orientation Motovun as well as one of the most interesting races in the region, the Truffle Hunt.
AiC: Yes, my interest peaked once I saw "Lov na tartuf" (The Truffle Hunt)…
Alen: The Truffle Hunt is a mini adventure race run in pairs. The pairs are supposed to search for a hidden truffle. It is comprised of different disciplines: running, MTB, orientation, use of logic, and riddle solving. It is closely connected with the Istrian Truffle Weekend, an event organized in Buzet. The winners of the race are awarded a real truffle! The most interesting thing is that the competitors are required to have mandatory equipment, i.e. a truffle shovel and a dog or a pig for truffle foraging. Now, I don't mean real animals, but a stuffed or rubber animal toy which is given a proper name and added to the team. Before the race, the teams are provided only with some basic information about the length of the race and total elevation. The actual tasks that they need to perform are kept secret until the beginning of the race. The concept of the race changes every year, which makes this race completely unpredictable and extremely fun. This year the Truffle Hunt will be organized for the tenth time. For our tenth anniversary we are preparing some very interesting complications.
AiC: What are your expectations of 100 Miles of Istria 2019 and are there any novelties or changes? What are your long-term plans for Istria?
Alen: In 2019, we expect that the number of competitors will increase, as evidenced by numerous registrations we have received. The absolute limit of the number of competitors is 2400. However, this year we expect that 1800–2000 competitors, from approximately 60 countries, will participate in the race. As for promotion and tourism, we are currently negotiating with the Croatian Tourist Board on a far more serious production and distribution of videos on a global level.
Also, we have established a very close cooperation with the Croatian Athletic Federation. This year, the BLUE race will be both an individual and a team trail championship in Croatia.
We expect a strong competition on a route that will be very difficult. This will be a real challenge for the competitors aspiring to keep their positions in the national teams.
We have big long-term plans and we are dedicated not only to maintaining, but also to increasing the quality of the event. This means that we will not compromise quality for the sake of increasing the number of competitors. Quite the contrary, we will limit the number of competitors up to what is viable route-wise, and what does not compromise the sustainability of the event itself.