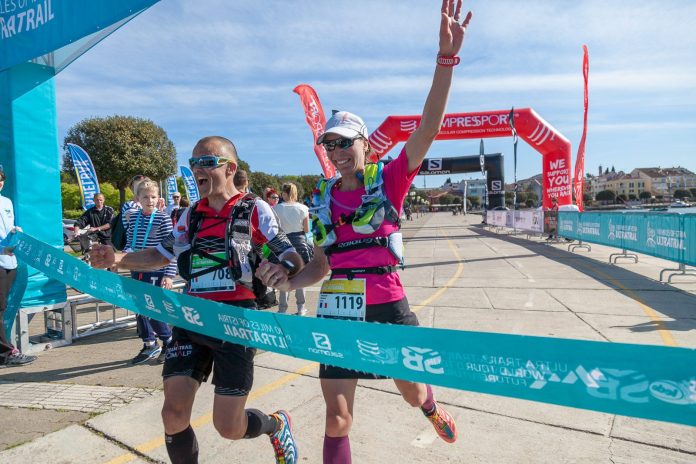 I
n the year 2013, at the beautiful hills of the largest Croatian peninsula, Istria, the first edition of 100 Miles of Istria was held. From only a few hundreds of participants, it grew to more than 1600 of them, and is now the most important trail running event in the region. It's constantly becoming more and more popular race for qualifying for UTMB and WSER for runners from every corner of the world.
By Martina Đođo/AiC
The race is usually held every year on second weekend in April and is one of the less demanding races in Ultra Trail World Tour series. It's a race to enjoy – your Istrian trail journey will take you through scenic green valleys, high mountains, seaside cities, and small medieval villages. Istria is a unique join of modern living, antique history, and fantastic nature.
The 2019 edition of 100 miles of Istria starts on April 12th.
Organizers are open, friendly and fluent in English, Italian, and German. Every year there is a lot of foreign runners in the race – for example, in 2018 there were 1670 competitors in total, and 1020 of them were foreigners. Trail running professionals seem to love 100 Miles of Istria – Dylan Bowman, Francesca Canepa, and Paul Giblin had run the race and said they would come back.
Courses
It doesn't matter if you are a beginner or a professional runner – 100 Miles of Istria has something for everyone. There are four courses – Yellow 41 K, Green 67 K, Blue 100 K, and Red 100 miles.
Yellow course (41 K, +1.129 m / -1.276 m) is perfect for those who just started exploring trails. It goes from ►Motovun to ►Umag on challenging but not so tricky paths, single tracks, and charming little village streets.
Green course (67 K, +2.441 m / -2.501 m) starts at ►Buzet and leads you through all aspects of trail running – strenuous climbs, steep slopes, crossing creeks and through beautiful medieval towns of Motovun, ►Oprtalj, ►Završje, and ►Grožnjan. It brings 4 ITRA points.
Blue course (110 K, +4.394 m / -4.399 m) crosses the ►Učka mountain at night and offers you some big and steep climbs, stream crossing and castle visit. It goes from coast to coast – from ►Lovran to Umag and, if finished, brings you 5 ITRA points.
Red course (169 K, +6.539 m / -6.818 m) is an Ultra Trail World Tour race. It starts in ►Labin, stretches from the eastern part of Istria, over its highest mountain down to the mainland, and ends on the western part of the peninsula in the city of Umag. It brings 6 ITRA points.
Technical info
Courses start at different parts of Istria and all finish in the city of Umag. Umag is the center of the whole event. You can fly from your country to Ljubljana, Venice, Trieste, Zagreb or Rijeka airport and then come to Umag by car or bus from that places. You can even contact organizers for transfer from airport to Umag and back. On a race day, there are buses provided by organizers that drive you to the start of your race. More travel details see here.
Anyone older than 18 can participate in the race. Registrations are online, and you can register here. All courses are semi-autonomous, meaning that you can have a friend waiting for you only at the official refreshment points. More details about registrations and regulation see here.
Runner's words
Runners from all over the world had outstanding experiences in Istria. Everyone likes a friendly atmosphere, great organization, and helpful volunteers. To quote:
"The course is beautiful; there is a little bit of everything at this event. You have steep climbs, steep descents, rocky technical sections, fast runnable parts, open vistas, forested mountains, seaside towns, and old churches to come through. For my first taste of European racing, I couldn't have chosen a better location or cast." – Jason
"Excellent course marking at night (100 miles) and during the day. The checkpoint teams were super friendly regardless whether it was 3 am or 3 pm. Also, I found the checkpoints very well organized for runners as well as supporters." – Thomas
"It is a fantastic race. I ran the red course 2017, and it starts in beautiful Labin and crosses Istria over the Mountains through small picturesque medieval villages to Umag near Italy. The route is marked very well, and the aid stations offer almost everything. Go there!" – Anders
"The longest race for me so far (108 km), and luckily, successful. There were moments of weakness and despair, but most of all I admired the route, the surroundings, and the whole atmosphere. Superbly marked trail, friendly staff – definitely a race to recommend to everyone, especially since you can choose between four different distances." – Ewa
Istria – heart-shaped Adriatic peninsula
Istria is a feast for the eyes. Its three rivers flow to the sea through deep valleys and gullies which bring to mind the ancient local myths about giants. Rolling hills overlook the fields and valleys with little towns on the peaks, recalling some old paintings. The view is splendid: white-topped mountains, lush wheat fields, valleys, vineyards and olive groves on hillsides, and, of course, the crystal clear sea.
You can experience Roman heritage in ►Pula, visit the world smallest town ►Hum and lot of other small medieval towns like ►Bale, Grožnjan, and Motovun, or you can make a short trip to romantic ►Rovinj. There is even a possibility to go truffle hunting in Buzet.
Umag, your host city for the race, was founded by Romans and is the westernmost city of Croatia. It is famous for its great gastro offers, art galleries, and sport. Actually, Umag is proclaimed as the 2018 European City of Sports.
Beside tennis tournament ATP Croatia Open, cyclist race Tour of Croatia and football training camps, 100 Miles of Istria also contributed to getting this title.
For accommodation anywhere in Istria, you can look here, and for accommodation in Umag, look here. You can choose between hotels, hostels, campsites, private houses, apartments, and rooms.
Whatever course or accommodation you choose, you can't go wrong – we believe you will enjoy your stay in beautiful Istria!
Check out our photo gallery: