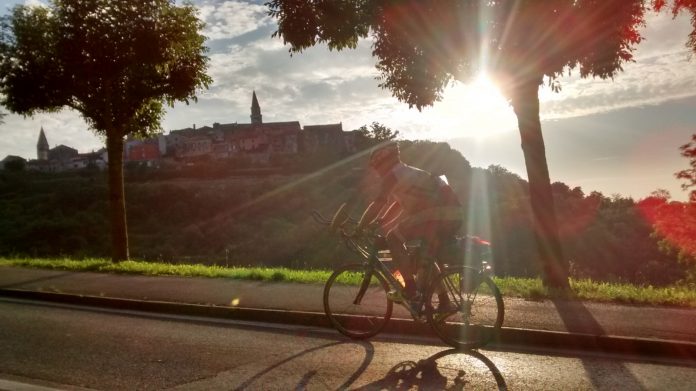 Cycle racing is almost as old as bicycles themselves. As soon as people had access to the new mode of transportation, they tried to see how far and how fast can they ride. First races were little more than a circus attraction, with the primary goal of entertaining visitors during agricultural fairs, and often lasting six days non-stop until mandatory break on Sunday. With developments in tires, frames, and gears it became possible to organize races that would send participants around a whole country.
By Zlatko Tomšić/AiC
These adventures were so popular among the public that even to these days there are six-day races on velodromes and three-week cycle races around France, Italy, and Spain. These races have little in common with their early editions.
Nowadays six-day racers compete in events in the evenings while their colleagues from the past had no breaks in racing, not even during the nights. Modern Tour de France racers get the luxury of having team cars following them with spare bicycles, warm clothes, cold drinks, and food; in the early days, any such outside assistance would have you thrown out of the race.
1400 km in 5 days
And while Tour de France remains one of the most significant events in modern sports, there is a growing movement that is trying to recreate the adventures of a single non-supported cyclist crossing a country or a continent. In Croatia, such adventurers can participate in Hard Cro, a self-supported non-stop race that covers 1400 km and lasts five days. The route in 2018 started in the easternmost point in the country, the city of ►Ilok; passed through two checkpoints in ►Sveti Martin na Muri and ►Savudrija, the northernmost and westernmost points of the country and finished in Prevlaka near the Montenegro border. This was the third edition of the race and the first in this direction. Previous editions ran in the opposite direction from Prevlaka to Ilok.
Next Hard CRO is planned for year 2020
From corner to corner
Highlights along the route include famous cellars in Ilok, checkpoint 1 in Sveti Martin na Muri, a well known spa and wellness resort; checkpoint 2 in Savudrija, crossing ►Učka, the mountain that separates Istria from Rijeka and following scenic roads south along the coast and through cities of ►Zadar, ►Šibenik, ►Split and in the end ►Dubrovnik.
Geography of Croatia makes this race unique and exciting mix of flat terrain in the beginning, mountainous in the middle and hilly during the final stretch along the Dalmatian coast. In the words of Ian To, two times winner of the race: "I feel amazing! It was a wonderful experience which I can't wait to relive by sharing the experience with my family, showing them how beautiful Croatia is."
Racers are allowed no outside help. All accommodation, food, drink and repairs used have to be commercially available to the general public. This is to ensure that all racers have equal race conditions. Other than that, participants are required to reach two checkpoints and finish in preset time limits using only their bikes as transportation.
Follow my dot
Organizers use a GPS tracking device to follow the riders. Riders positions are available in real time on the race's website. Each rider is represented as a dot on a map. Following the competition can be strangely addictive, and there is a growing army of dot-watchers following the racers daily on the map, but also through social media using the hashtag #HC2018.
And while the race is a competition, most cyclists do it for the adventure and satisfaction of crossing the finish line inside the time limit. Limited sleep, often for only an hour or two in bus shelters or by the side of the road, and long days in the saddle are the norm for these heroes on two wheels. They usually use bicycles with wider tires then race machines to gain some comfort but also to support the added weight from minimal supplies they carry with them, such as sleeping gear, navigation, lighting, food and clothing for diverse weather conditions.
The race takes place in mid-June and serves as a qualifier for the RAAM – the Race Across America, where cyclists cross USA coast to coast from west to east. In a race that few start and even fewer finish everyone is a winner. For them, the memories and feeling of accomplishment last forever.
For us watching, it is a reminder that the limits of human strength and endurance remain unknown.