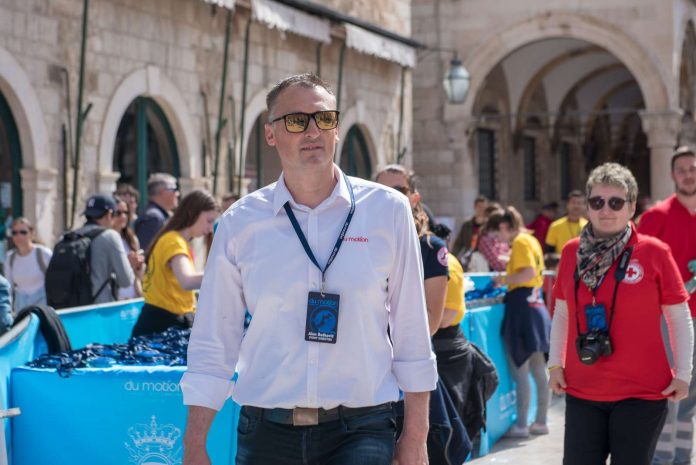 The fifth edition of the Dubrovnik Half Marathon, and its accompanying races, is approaching. We talked with the founder of the Du Motion Runners' Days Dubrovnik about the four previously held and the upcoming one in late April.
AiC: Thank you for responding to the invitation to present the Du Motion Runners' Days Dubrovnik races on our portal.
Alen Bošković: First of all, it's nice to get a chance to talk with a portal that deals with active tourism and sports in Croatia. I believe that our running event, Du Motion – Runners' Days Dubrovnik, can contribute to the development of active tourism in Croatia.
As for the very beginning of our race, the basic idea resulted from the exchange of social programs between Dubrovnik and our sister city of Monterey in California. Monterey's representatives came up with the idea of hosting a half marathon, a competition that did not exist in Dubrovnik at the time. The city of Dubrovnik accepted this idea and, with the help and assistance of our American friends, we held the first edition of Dubrovnik's International Half Marathon – as it was called in the early years. However, turning that idea into reality took time. The talks about the idea of organizing a half marathon lasted for years before it was fully defined in 2014, when it was decided that the project holder would be the Dubrovnik Alliance of Sport, of which I am the Secretary-General.
Along with the half marathon, we decided to add two more races to the event – the Run the Wall race and a 5K charity citizens race. We also added a Kids' Day, which consists of several races for children. It seems like that first year happened ages ago, even though it has been less than five years since then. It still baffles me how we managed to realize four races in two days, considering we didn't have any previous experience organizing road races. However, our friends from America, who worked on the Big Sur and the Portland marathons, helped us to successfully carry out the planned races.
After the initial success, maybe the most difficult thing to do was to repeat it all the following year. Now, the fifth edition of the race is ahead of us and every year our goal is to repeat the feeling we had that first year. Many people have told us that our first race would be the most memorable one and it really is so.
AiC: You're not a professional runner, but a retired, top water polo player, an Olympian. How did you get into this new sport?
Alen Bošković: If someone had asked me five years ago if I see myfelf organizing an athletic race, I would have probably asked him about his mental health. I have never practiced running as a sport. As a consequence of years of professionally playing water polo, I have some back problems and running isn't really recommended. To put it simply, I did not consider running as a part of my life. We, the citizens of Dubrovnik, often wondered about the tourists who were running our city because we see Dubrovnik as a place to relax, drink coffee on the Stradun, and walk along the walls. Like the majority of Dubrovnik's citizens, I considered runners odd.
My personal sporting journey began when I took up swimming. After that, I had a long professional career in water polo. I just wasn't in touch with, I would say, the cultural phenomenon of road running. I can hardly explain to someone how I found love and passion for a sport I've never been concerned with. And that's exactly what happened to me – a fascination with the running movement. I'm incredibly fascinated by this subculture that exists all over the world, the interconnectedness of the runners, the incredible positive energy, and the exceptional moment of when a race starts. Every start, whether it is a big race or a small one, causes extraordinary emotions in me and I think that almost no sports discipline can provoke such feelings as running can.
AiC: For a lot of people around the world, when they think of Croatia, their first thought is Dubrovnik. How much did this affect the recognizability of the Dubrovnik Half Marathon, or Du Motion, around the world?
Alen Bošković: Everybody involved in tourism thinks that getting a tourist to visit Dubrovnik is not that difficult as Dubrovnik is a city that is extremely famous worldwide. However, I don't think that's the case. Dubrovnik is an exceptionally recognizable "brand". Maybe even more so than the "Croatia" brand. But, when we talk about the racing and bringing foreign runners to Dubrovnik, it took a lot of effort for our race to get a place on the international racing scene.
We are witnessing a big increase in the number of international races, and Dubrovnik wasn't known as such a destination. The city offers enjoyable recreational activities in the old historical core and in nature, swimming, gastronomy… Additionally, in the beginning, we had a completely different name – Dubrovnik International Half Marathon. This was certainly too long, and it started with the word "Dubrovnik". We thought that, by naming it this way, we could raise the value of the event itself, that is, we thought that we would be more recognizable. Regardless, we quickly realized how difficult it is to attract runners to a new destination. Especially because people who participate in races often plan far ahead and have travel calendars for races around the world.
Moreover, Dubrovnik doesn't have a big racing scene. When we first started this project, barely twenty people ran so we couldn't fill the race with domestic runners because simply – there were barely any. Also, it was very difficult to change the name and make a complete rebranding of the race into the Du Motion – Runners' Days Dubrovnik, or Dubrovnik in Motion, Runners' Days in Dubrovnik.
Being aware of all these issues, we have worked a great deal on marketing in the past years and we've offered runners a race that is a bit differents than all others. We gave them a race in which they feel comfortable, as opposed to huge races with thousands of runners where everybody inevitably feels like a "number". Here, everyone will get a chance to experience the beauty and breadth of the enjoyment in running, but also in the city itself. We offer the possibility of getting to know the city, visiting the walls, museums, the island of Lokrum, and more, which is all included in the starting package. Obviously, we have succeeded in this as this year, almost three months before the race, all available half marathon registrations were sold out. The registrations for the Run the Wall race were recently sold out as well.
AiC: How do you manage to attract so many runners from so many different countries of the world, many of whom return in the following years?
Alen Bošković: Du Motion is designed so that runners who come to Dubrovnik have the ultimate service. Apart from trying to organize a race according to the most modern world standards, where the safety of runners is at the forefront, we also have a particularly rich starting package. We provide the runners with an accreditation, which gives them a number of benefits. I think that this is one of the main reasons why we attract so many foreign runners and something that makes us recognizable. This year, almost 90% of participants who will be running the half marathon are foreign runners. But, we understand Croatian runners and why they don't come. We know that the distance and the traffic connections between Dubrovnik and the rest of Croatia is a problem for them and that it is easier for many foreigners to come by plane from any part of Europe than it is for domestic runners to drive for half a day from eg. Zagreb.
We just don't want to be like anyone else. We are new, we don't have a long tradition, and I think that this is our advantage. We are free to design our event according to our own ideas and imagination. People from all over the world come to participate and I think that this is a good incentive for other Croatian races to try to get closer to international runners.
AiC: This year is a small jubilee, the race is being held for the fifth time. What can we expect on the last weekend of April in Dubrovnik?
Alen Bošković: True, it's a mini-anniversary, but, for us, these past five years have felt like an etirnity. We are very proud of our work and, perhaps the most proud, of the fact that our fellow citizens, the people of Dubrovnik, have recognized it. I think our race is important for the city because it is held in the summer pre-season, which was recognized by everybody, from the city's leadership to tourist organizations and the citizens themselves.
On the last weekend of April, the runners will experience our hospitality and all that we have to offer as a part of our starting package. We are working on organizing a get-together in one of the most beautiful discotheques, Revelin, after the race. We are also looking for ways to increase the contents we have to offer to runners, that are outside of what we already announced in the race announcement. We've noticed that more and more people are staying in Dubrovnik for four, five days, which is one of the biggest achievements of this project. Our main race has 1,000 runners. During the race, almost 10,000 nights are realized, which I consider to be a great success.
AiC: The main, half marathon race was sold out three months before the event. Can one still take part in the Runners' Days Dubrovnik?
Alen Bošković: I have already mentioned the fact that the half marathon race was sold out almost three months in advance, and a few days ago the registrations for the Run the Wall race were closed as well. It is a race that gives the participants a special experience of being alone while running the walls, which are otherwise overwhelmed by tourists. I am thankful to our partners from the Society of Friends of Dubrovnik Antiques who enabled us to host this race.
There is still a chance for you to participate. The registrations for the 5K citizens race are still open. This year, the proceeds from the registrations for the 5K race will be donated to charity.