This is a story of real people embarking on a real adventure. I am constantly inspired by travelogues of others, but at the same time, I don't know where to start planning similar adventures. Work and everyday life fill my days, and I even have trouble finding time for riding regularly. So it was a complete mystery to me where to find time to research travel guides from far away countries. I couldn't even remember the names of the towns and mountains let alone plan a trip!
For three weeks, the Swiss girl Cornelia Hug was my "partner in crime." Although we did not know each other very well beforehand, that certainly changed on this trip. You may wonder why I chose to go on a month-long adventure trip with someone I did not know very well. The answer is simple: Coni has a great VW camping van and by chance a month off in November. Also, she is a really good mountain bike rider; she's always up for a bit of mischief and always keeps cool in difficult situations. Sounds like a recipe for success!
Adventure Tip no. 1: Find a suitable travel partner. You can encourage each other, and sharing the adventure with somebody makes life just a bit more colorful!
This van is our home for November. Real dream home on wheels!
Our journey is completely unprepared, but we start confidently that everything will turn out for the best. We depart with the van from Switzerland and until Venice it's pouring rain. Although we told everyone at home that we will start our trip in Slovenia, we take advantage of the fact that we have no plans and continue until the heavy rain stops somewhere along the coast of Croatia. Camping and biking in continuous rain? Although we are not soft, great outdoors is a lot more pleasant in the sunshine.
Adventure Tip # 2: Stop worrying so much and just go!
It quickly becomes apparent that Coni and I are on the same wavelength.
Our first stop is the ►Paklenica National Park. We've never heard of it before, but we're close by and online. We find GPS tracks of a "technically difficult" bike route. Time to ride! The mobile phone data package, which allows us to do on-the-fly research of the area, becomes the best friend of "Team Chaos Chix," as we started calling ourselves.
Adventure Tip # 3: Mobile phone data package that allows navigation. It is best to check the data plan of the mobile service provider before leaving!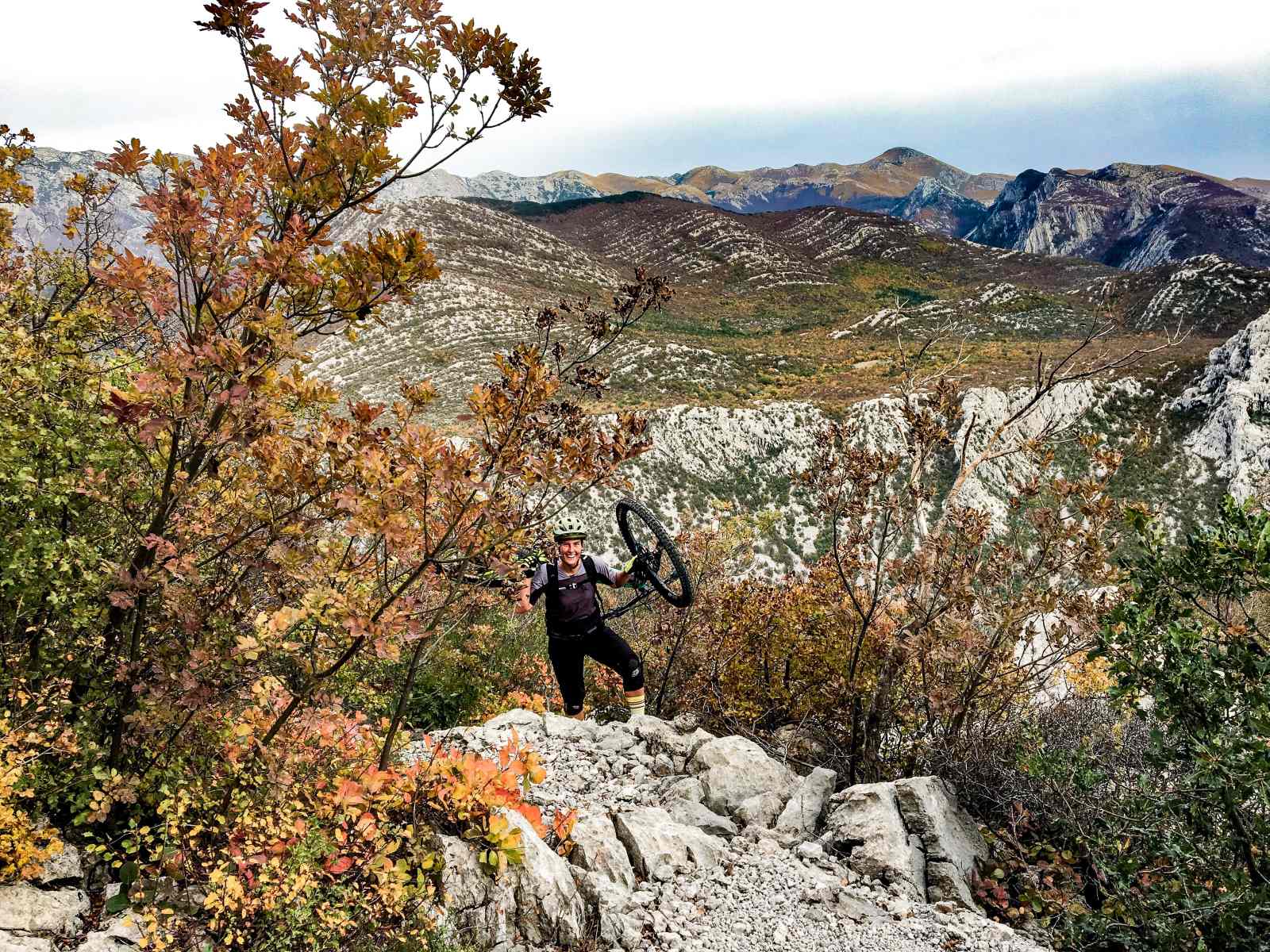 Carrying the bike to the top of a mountain is always worthwhile – sometimes just for the view!
This s bike is my secret weapon, with it I am ready to take on any challenge: Trek Slash 9.9. As a bonus color scheme fits perfectly with my character!
In the Paklenica National Park, we have put ourselves in some sticky situations.
Paklenica turns out to be a free climbing mecca, and the term rock garden receives a new dimension for us mountain bikers. Sometimes we couldn't follow the trail from the number of loose rocks, and our technical riding skills are definitely pushed to the limits. But actually, we both like such intense experiences, and we decide enthusiastically to explore one more singletrack, which according to the map should bring us back to the van. The trail ends with a cliff up which we carry the bikes not only to the top of the hill but also down again. After 3 hours of hike-a-bike, it's already five in the afternoon and dark. (Lesson learned: The days are short this time of year) We have to use the iPhone lights to find the way back to the van. After another hour of carrying bikes, we make it back to the van. Phew! Lucky again!
Adventure Tip # 4: An app with a good topo map is a must on every trip. A flashlight in a bike backpack doesn't hurt either. Better safe than sorry!
Here we can still laugh. After carrying our bikes for two more hours, the mood was less cheerful.
After the only half-successful mountain bike ride, we decided to go hiking for two days without taking the bikes with us. However, the MTB gods smile upon us when a Slovenian friend sends us the contact from Ante, a trail builder in Šibenik, one hundred kilometers to the south. Ante is ready to show us his local trails, and it turns out that Ante not only knows the trails like his back pocket but has even built them himself.
Adventure Tip # 5. If you meet locals, stop and talk to the people. The mountain bike world is a small family where everyone is glad to help like-minded people.
Our guide Ante has expanded every single trail here himself. Chapeau!
Ante created such a route for us today that after three hours of trails I just wanted to chill.
Ante gave us another contact — Miro from "Old Paths – new Trails," a guide and trail construction crew in ►Omiš. We, therefore, head south along the coast and experience two days of super cool trail days. Riders that don't like rocks, are definitely in the wrong place in Croatia. If you would like to have "rock gardens" served for breakfast, lunch and dinner, you will feel like you are in paradise. The boys from Omiš not only showed us their trails, but also organized shuttles and drank local beer with us.
In Omiš with the Coast Riders from "Old paths – news trails"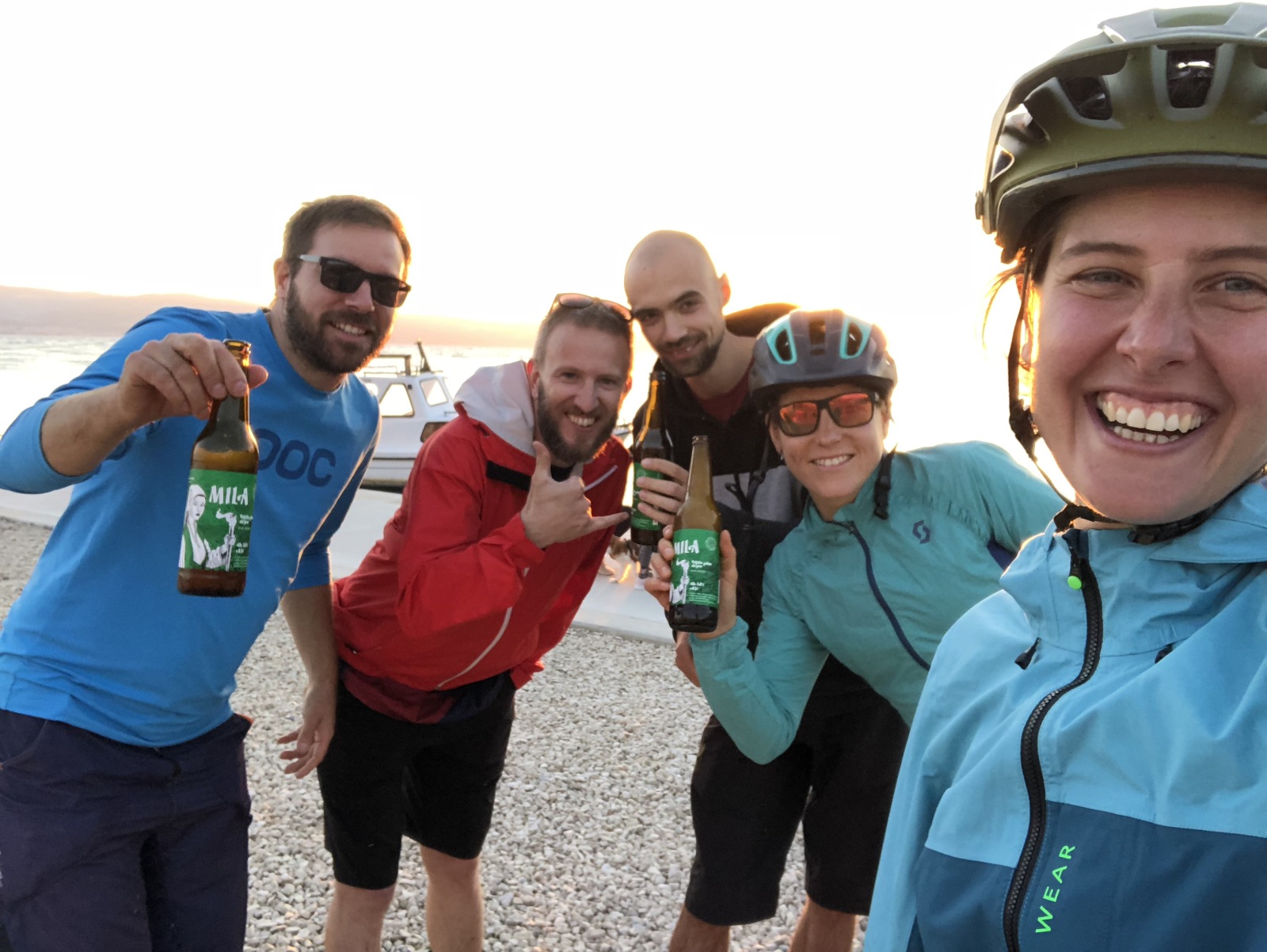 We enjoy our last evening in Omiš with our new friends
Those looking for a mountain bike adventure along the Croatian coast is definitely on the right address in Omiš. The Coast Riders behind "Old Paths – New trails" are not only passionate mountain bikers but also organize couple Enduro events. If you want to go biking in the region of Dalmatia, you can contact the guys here: http://www.mtbdalmatia.com/
Of course, the local cuisine should not be missed. J
In Croatia, our unplanned journey becomes a stroke of luck. We reached destinations of which we had never heard before, and enjoyed great support of the small but fine mountain bike scene.
Adventure Tip # 6: Stay Spontaneous! A day of trail shredding with locals is always better than anything else you may have planned.
We have seen enough rocks in Croatia. We are looking forward to seeing what Montenegro has to offer.
But now it's time for us to move on. Because Montenegro beckons, but what when or where? We do not have a plan will just go.
Bio Nathalie Schneitter:
Nathalie Schneitter started her international mountain bike career in 2004 by winning the Junior Cross Country World Champion title. Since then she has been racing full throttle on the race tracks of this world. In 2008, she qualified for the Beijing Olympics, and in 2010 she secured home victory at the Cross Country World Cup in Champéry. Nathalie also gives full throttle outside the racetrack: she laughs a lot, is a bit crazy and dances in every possible situation. Since autumn 2016, she has been the organizer of the Bike Days in Solothurn and the Urban Bike Festival in Zurich. Since this season she can be found on Red Bull TV doing the German co-commentary of the Cross Country World Cup (4 of 7 races).
Text and photos by Nathalie Schneitter