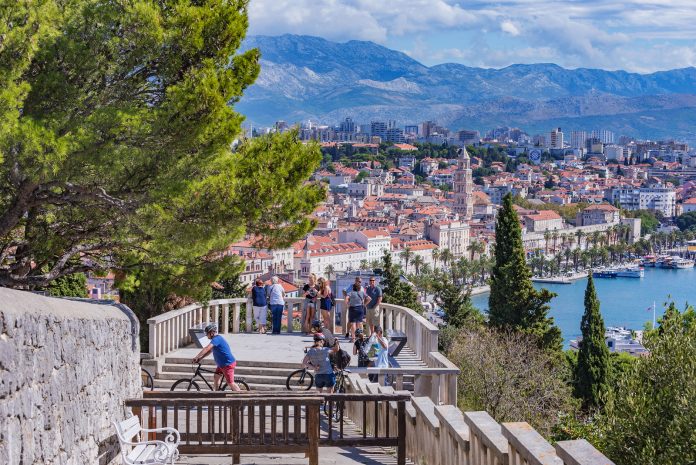 Situated in the middle of the eastern Adriatic coast, Split is a real Mediterranean city – palm trees, Roman heritage, narrow streets, and a good atmosphere all year long. There is so much to explore in Split and its surroundings – and you can do so by running! From coastal runs to trail runs, everything is possible.
By Martina Đođo / AiC
If you come across the West Coast on your run, you'll see tiles with the Olympic logo and the names of Croatian Olympians. Be sure to remember that you're running in the city with the largest number of Olympians per number of residents – a real sports city which gave us Goran Ivanišević, Toni Kukoč, Ivano Balić, Blanka Vlašić, and many others.
Best places to run
A real "pearl" of Splits' running is Marjan. It is a peninsula in the western part of the city that is also a park-forest. There is a road that goes all around the forest and is closed for traffic, a trim trail, and a lot of trail paths. Even though the highest point is only 178 meters high, you can do a real trail running workout there. The road that goes around the park is perfect for speed lovers and offers a nice view of the open sea along the entire way. If running in summer, another great thing is that the forest provides shade and protects you from the strong sunrays.
If you're into stair running, there are stairs leading from the city center to Marjan, with an amazing viewpoint called Vidilica at the top. The starting point for those 819 stairs is here.
Another great running spot is on the east side of the city, in a neighborhood called Žnjan. There is a nice walking trail called Promenade of Pope John Paul II (Šetalište Pape Ivana Pavla II), which is 2.5 kilometers long and goes along the sea. By combining it with other streets around it, you can have a nice long run on the beach. Just imagine how beautiful it would be to run there during the sunset!
If you like big, rough mountains, there is something for you as well. To reach Mosor and Kozjak mountains you'll need to take a short car drive – Mosor is south of Split and Kozjak is north of Split. Only 20 minutes away from the city center, in the small, nearby town of Solin, there is a marked hiking trail that leads to the peaks of the Kozjak Mountain. Here is the starting point, and here you can find a map.
Mosor is higher than Kozjak and has several hiking trails that start in the town of Omiš. A 30 minute drive from Split will get you to the center of Omiš – the town of pirates. An interesting mixture of the Cetina River, its canyon, the sea, and the mountain makes this town a really unique destination in Dalmatia. Hiking trails start here. You can go straight to the highest peak, or you can wander around other peaks. Whatever you choose, the views will surely delight you.
Races
There are multiple races in Split that take place from February until December. It all starts with the Marjan Trail in early February. The next one is the biggest one: the Split half marathon at the end of the same month. Split half marathon is a really good organized and interesting race definitely worth running. Next, March starts with Imbertrek – a trail race at Mosor, and on the first Monday after Easter, Skalinada (a stair-climbing race at the Marjan Hill Stairs) is being held. From the end of May up until the end of August, the Marjan League takes place – every Thursday at 9 p.m., starting here. The racing year in Split traditionally ends with the Christmas Race on the 26th of December.
The city
The story of Split began 17 centuries ago, when the Roman emperor Diocletian decided to build himself a palace on the Adriatic coast, in the area where now Split is. Since then, Split became a real time machine: when strolling around it, you will see and experience architectural works dating from the periods of Classical antiquity, Romanticism, Gothic, and Renaissance, as well as Modern architecture.
You can enjoy a great restaurant and bar offer, an amazing sea with various beach types, numerous concerts, exhibitions, and shows – find some ideas here. Make sure to visit the palace, which is protected by UNESCO, climb the tower, and drink a cup of coffee at Riva – and take your time since people of Split usually drink their coffee for hours. After you've seen everything in the city, go and enjoy nature at Marjan – you can walk, cycle, run, swim, and hike there. And Split is a harbor to many ferry lines, so you can always easily go to the islands of – Vis, Korčula, Brač, Šolta, Hvar… Oh, what a joy!