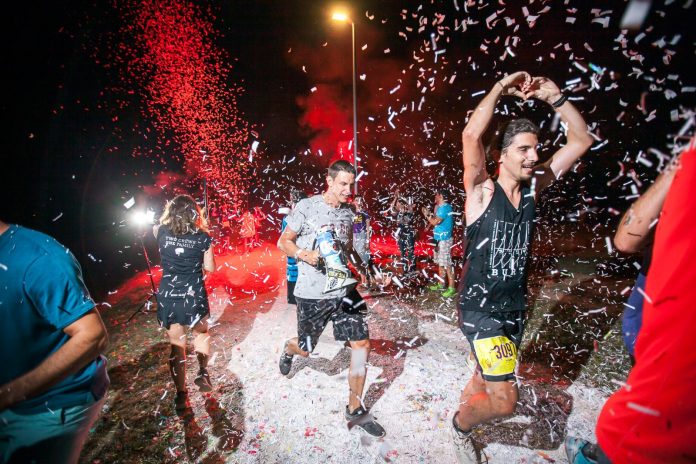 V
isiting Zagreb during your summer vacation? There is a marathon for you! And a 30 K race, and a half marathon, and a 10 K race, and a 5 K race. And a lot of fun at GRAWE Night Marathon! Don't be confused, GRAWE is a leading sponsor of the race, it's an international insurance company. 🙂
By Martina Đođo/AiC
Starting with the sunset, enjoying cheering points and beer points along the course, while the good music and a beautiful finishers' medal wait for you in the end – sounds good, doesn't it?
Race info
►GRAWE Night Marathon takes place on August 31st 2019. The exact location is the ►Bundek Lake in the city of ►Zagreb.
You can choose between five disciplines: 1/10 of a marathon, 1/4 of a marathon, 1/2 of a marathon, 3/4 of a marathon and a full marathon. All of them, except the shortest one, are made of laps, 1/4 being one lap around the lake and bridges of Sava river bank, 1/2 being two laps and so on. Decide which one you want and sign up here.
The shortest race usually starts first, around 6 pm, while others start later, around 8 pm The exact timeline can be found on the official web page of the race, but since the page is in Croatian, you can always send us a message or contact the organizers (prijave@sljeme.run).
The great thing is that every year this event has a humanitarian note called PoKRENI (Croatian for move). It encourages everybody to move in pre-race months and collect kilometers which will be converted to money donation on the race day for somebody in need – children with Down Syndrome, Multiple Sclerosis patients, or this year for prosthetics.
All of that with great music and even greater atmosphere all along, plus an interesting and unique medal for everyone who finishes any of the races.
Arrival and public transport
Arriving in Zagreb is a 'piece of cake.' Major European roads go through Zagreb and arrival by car is easy. There are many public parking spots and garages, and some places are free of charge, depending on which part of the city you're at.
If you want to come by plane, there is ►Franjo Tuđman Airport near Zagreb. It is new, big and connected to almost everywhere. From the airport to the city (and vice versa) you can go by shuttle bus which drives every 30 minutes and connects the airport and the main bus station in Zagreb; by the city bus which drives every 35 minutes and connects the airport and the Kvaternik Square in Zagreb, or you can take a taxi/rent-a-car.
There are two more options: coming by bus and coming by train. You can check out bus lines here and train lines here. Both bus main station and train main station are situated in the city center.
Once in Zagreb, you can get around by trams and buses. There are many lines, and the city is generally well connected – wherever you stay, you can go by bus or a train. See the lines here.
On a race day, you can go to the Bundek Lake by trams and buses. If going from the city center, you can take tram no. 6 from the main square, exit at the Središće station and walk 5 minutes to the north; or you can take any of bus lines 220, 221, 229, 241, 242 and 268 going from bus terminal near Tomislavac Park – exit at the Bundek station and walk to the east for a few minutes. If you're coming from any other direction, use tram lines 6, 7 and 14 (depending from where you go) and exit at Središće station, or mentioned bus lines (in other direction, also depending from where you're coming).
Staying in Zagreb
You can choose between several options for your stay. There are hotels, hostels, and apartments in the range from luxury to budget-friendly. Some of them are pet-friendly, too.
Summer in Zagreb can be fun as much as the summer on the coast. You can stroll all around the city and enjoy sunny weather and beautiful architecture of Zagreb. Parks in the city center are especially nice in summer: in Zrinjevac and Tomislavac you can find a lot of small open bars and restaurants, craft shops and pastry shops. Strossmayers' promenade in Upper Town has an all-summer-long festival called Summer at Stross, and every evening there is a concert at the open stage.
The great thing is that almost all Zagreb sights and landmarks are free to visit. Use the chance and visit some of the unique museums like the Museum of Broken Relationships, Museum of Illusions, Museum of Torture and so on. If you're more about nature, go to Maksimir Park or climb the Sljeme peak at the Medvednica mountain. You can even swim in the Jarun Lake. You will be delighted with how beautiful, and rich nature is there, just a few minutes outside the city center.
Lovely city plus a good race – definitely worth coming!