L
ast year's world football championship is over. For the next four years, his name will be worn on most of the boys' red and white squared backs. His name is Luka Modrić, and he is declared the best player of the FIFA World Cup in Russia in 2018.
By Martina Maloča
Luka was born in 1985 in Zadar city, and only a few years later he made his first football steps. This modest guy, coming from a little Dalmatinska Zagora hamlet which wears his family name Modrići; became the best player in Europe by UEFA, the Best FIFA Men's Player of the world and wears the same title in a choice of Ballon d'Or France Football.
First football steps in the embrace of war
In 1991, at the start of the war, Luka's family lived in a war zone. That year his grandfather, after which Luka was named, got killed. After this tragic event, the Modrić family moved to Zadar under the refugee status. They were accommodated in hotel Iž, located near the stadium of FC Zadar. Despite the difficult times, Luka's parents both were employed, and their social status was solid. Thanks to that, in 1992 they sign him up at the football academy.
In order to mark World Refugee Day FARE, a network that fights inequality in football, appointed Luka as one of the TOP 11 refugees at Euro 2016.
He wasn't good enough for Hajduk Split

After the war, ten-year-old Luka got to audition for FC Hajduk in Split, but the coaches evaluated him as physically too weak. His first coach at FC Zadar, Tomislav Bašić, was like his second father during the difficult war times and his biggest support when Hajduk rejected him.
"Luka Modrić was predestined to become a top player, but people underestimated him because of his physical weakness. Some thought that players must have physical predispositions to play top football. Luka proved them wrong. " said Bašić who helped Luka sign the contract with FC Dinamo, when he was just 15 years old.
Sports director of FC Zadar, Josip Bajlo, was fiercely against Luka's transfer before he turns 20, because he estimated that the club would lose too much money that way.
"He was very skinny and too small for his age, but one could see that he was special and different. No one ever dreamed that he could grow into the player he his today." he recalled.
Head of FC Zadar youth, Tomislav Bašić, passed away in 2014, and Luka dedicated his victory at that year's Champions League to honor him.
Honing talents in the streets and marginal clubs
To earn his place in Dinamo Zagreb, Croatia largest football club, Luka first had to hone his skills as a loan at Zrinjski from Mostar (in Bosnia and Herzegovina) and Inter Zaprešić. As he was building himself up, he helped those smaller clubs break through and achieve goals they couldn't succeed without him. That became obvious the moment he returned to his parent club Dinamo.
His coach at Zrinjski, Stjepan Deverić, said that Luka was always creative and, as a central midfielder, had that extra talent to always find a way to impose himself.
"He was technically perfect, and even the hard pitches in the Bosnian league didn't bother him. He became a leader, and it is rare to have an 18-year-old leader in the team. He became much tougher in the Bosnian league. He was very professional and very quiet. He would impose on the pitch but on other occasions, you would hardly notice him." Said Deverić for the Goal magazine.
Inter's former coach Srećko Bogdan believes Modrić honed his talents by playing football in the streets. He says it is hard to imagine Croatia producing another player like Luka these days, because today's kids don't play as much on the streets as they used to.
"He always worked for the team, and I am sure we would have become champions if he had stayed until the end of the season. With me, he never played as a defensive midfielder. I wanted him closer to the box. All his team-mates loved him, he was fair and honest, and that is always appreciated. And on the pitch, he was always the best." Bogdan told Goal.
Bogdan and Deverić both agreed that, despite his tremendous talent, back then no one expected him to become the player he is today. Only when he became the main player of Tottenham, it became obvious that Modrić was destined for real greatness, said Bogdan.
A great comeback to the "mother ship"
However, no matter how much Luka developed and proved himself, either in Dinamo or later in Tottenham, there were always coaches who underestimated or misjudged him. They rarely gave him the chance to play offense and strike/score and put him out of his natural position as an attacker. That resulted in clubs ending up in lower league positions and eventually changing coaches.
But in the right hands, with Dinamo Zagreb, Luka scored three titles in the championship in a row, and got two titles as the Croatian Football Cup winner, as well as one of Superkup. At last, he was given a chance to show himself in all of his glory, and he performed in almost all the matches.
So, in 2006 he scored eight times, in 2007 six times, and in 2008 he took over leadership as the captain. At European competitions, he stood out as an individual, but was not able to achieve his full potential with Dinamo over there. So, after a long reluctance from Mamić and refusal of a 50 million-dollar amount, Luka managed to transfer to London's Tottenham for 33 million euros, which was a club record.
Everybody wants him
After a bumpy start with coach Ramos, Redknapp used Luka as a backbone around which the team had been built. Once again, he played as a central midfielder, in a more offensive role just like back when he played as a playmaker and captain for Dinamo. Luka justified the trust they put in him for the next three seasons.
After Luka's magnificent play in an unresolved duel with Manchester United in 2011, Redknapp commented Luka's game: "He was unrecognizable. Enthralling. He is an incredible player, a small man who takes the ball from the narrowest corners and pulls out of any inconvenience."
This proved to be right in the summer of 2012, after Real Madrid offered an amount which makes Luka the best paid Croatian football player and the sixth highest paid Real player. Luka won the Champions League with the "Royal Club" four times (2014-2018). He was named the best midfielder in Spain and was playing for the best team of the world. Modrić is the main player of the Croatian representation as well as Real's main player, together with Cristiano Ronaldo.
All roads lead to the world's silver and golden ball
Luka performed in the Croatian national football team in six age categories, and his first appearance was in 2001. He made his full Croatia debut, as part of the senior selection in 2006 against Argentina and Messi. That year, when a new selector, Slaven Bilić, came, Modrić became a standard member of the initial set up and, already, in his first game he scored a goal and contributed to a 2-0 victory in a friendly match against Italy.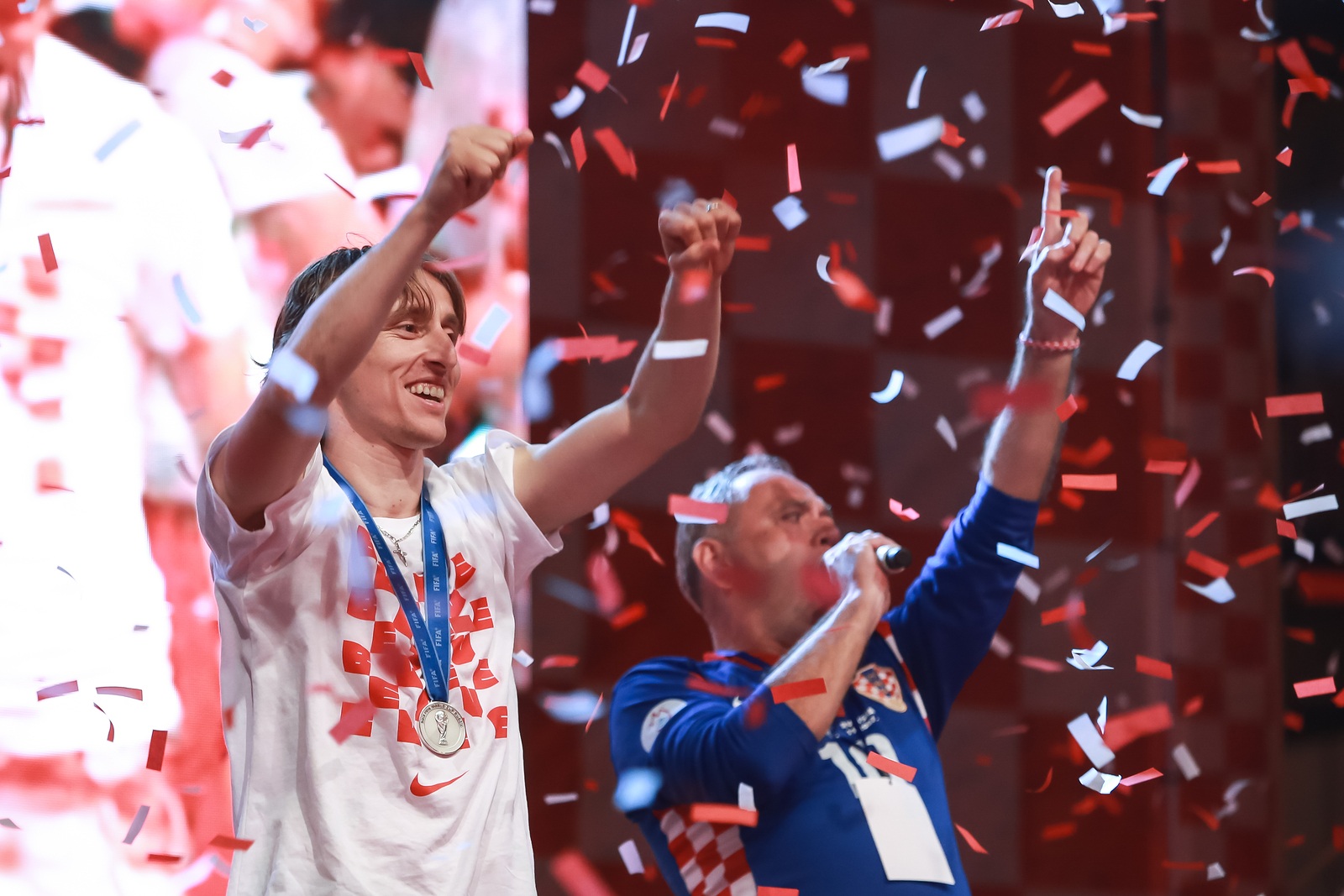 His first goal scored in a competitive game was against Andorra in the European Championship qualifiers. This match ended with a record victory for the Croatian national team with a score of 7-0. Luka took part in all 12 qualifying matches, of which Croatia won nine.
As the team captain, at the World Cup in Russia in 2018, Luka and his team managed to achieve the greatest success in the history of Croatian football – winning the silver medal. Also, as an individual, Luka had the honor of winning the Golden Ball.
The awards just keep on coming
With the beginning of 2019, Luka Modrić won the AIPS Best Male Athlete of 2018 award. A panel of 359 journalists from 87 countries took part in the International Sports Press Association (AIPS) poll and voted the Croatian captain Luka Modrić to be the best of the best in the last year.
Luka was awarded FIFA Ballon d'Or and declared as UEFA and FIFA player of the year, to name only a few achievements in 2018.
Photo: bigstockphoto.com / Goran Jakus