Stéphane Vernède is a French cycling enthusiast living in Croatia. His work brought him to the country four years ago. In his free time, he likes competing and exploring nature by bike. We talked with Stéphane to find out how he likes Croatian cycling events, nature and the people that he meets.
By Zlatko Tomšić
Stéphane, I know that you are a cycling enthusiast, we just recently met at King of Učka. When did you start cycling?
I started when I was 14 years old. I trained and competed in my local club in France until I had to choose between sport and studies at 18. I choose to dedicate myself to getting a degree. But the love of cycling and being outdoors remained. So ever since I try to ride as much as my other obligations allow me. Besides cycling I enjoy being in nature, hiking and running.
You have been here for four years. Do you have a favorite riding place?
I am living in ►Zagreb, so Sljeme for sure. I love the variety of that is on offer. You can ride, run, hike. For cycling, there are two main asphalt roads, one easier and one harder. This makes it easy to have a complete training ride. Flat, hilly, climbs; everything in couple of hours. Great! My favorite ride is a loop around ►Sljeme. Sesvete, Laz, Marija Bistrica, Stubičke Toplice and back over Sljeme.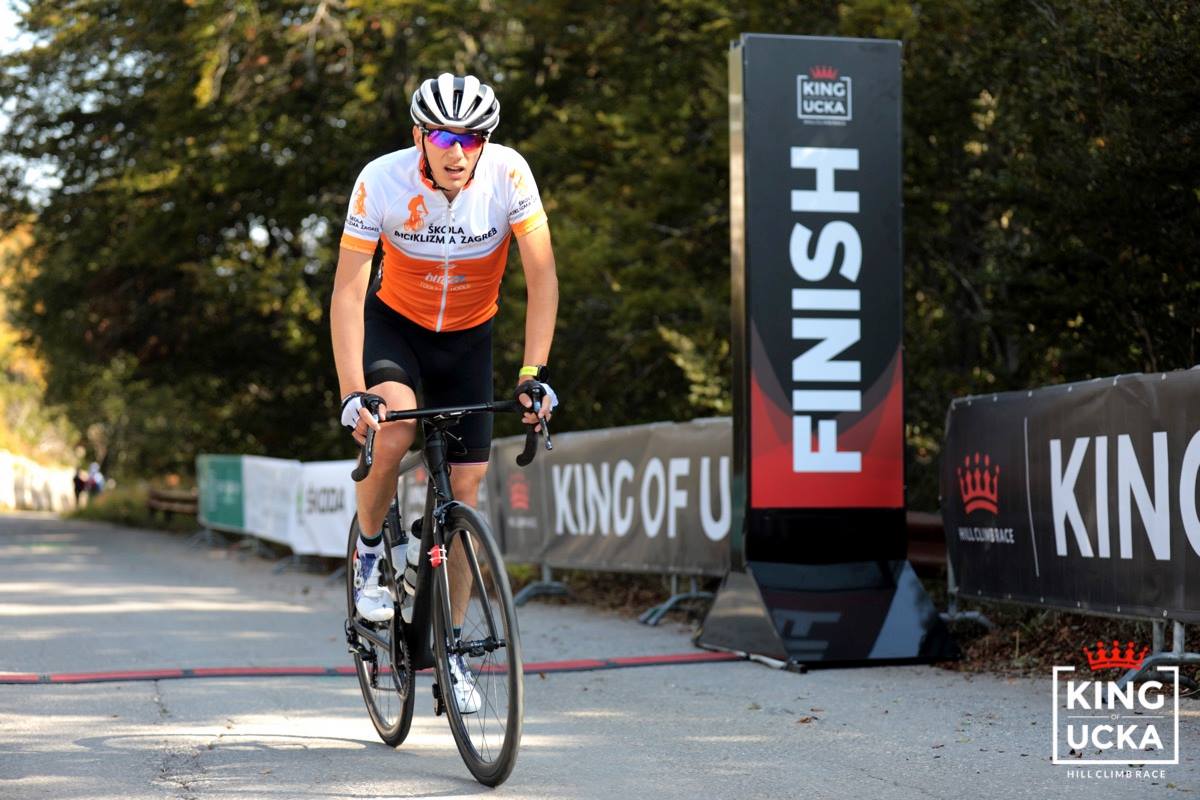 And for hiking, all the trails are well marked. So there is almost no possibility to get lost. It is the perfect combination: not too hard for beginners, but long enough so even experienced riders can get a quality workout.
Do you have a favorite race you have done in Croatia?
I have done quite a few. Granfondo Zagreb was great. Not only because it goes over Sljeme that I love it. Safety was at a very high level and the organisation in general was very good. I especially enjoyed that the varriety of terrain. There is a place for everybody to show their strengths.
Besides Zagreb Granfondo I did a race called 100 Hupsera . The route was exactly for my liking, hilly and varied. Then Granfondo Sisak, Granfondo Portorož that starts in Slovenia but the route is mostly in Croatia, Granfondo Istria and King of Učka. All of the events are very well organised.
You did some of the world's most famous events for amateurs – Haute Route Stelvio and L'etape du Tour. How do Croatian events compare?
From the participant's perspective, the organization in Croatia is very good. Nothing is missing, and the most important thing – the security – is at a high level. When i first came here, I was surprised by how good riders you have. They are strong and know how to ride. I can say that these events have prepared me well for riding in the more well-known events such as Haute Route.
You say that there are good cyclists here. Do you have a club or a group ride that you join regularly?
Recently I joined "Škola biciklizma Zagreb" club. The atmosphere is friendly and relaxed, and everybody's welcome. Not only in my club but in general, I find Croats to be very welcoming and warm. They are very proud of their country and are happy to help you explore it, even more so if you come from abroad.
Do you have a top tip for somebody coming to Croatia for the first time?
If you are in Zagreb and are a cyclist, climbing Sljeme is a must. And for any ride on Sljeme is not complete without a rest stop at one of several mountain huts. My favorite is Puntijarka. I start with recovery nutrition before I finish the ride!
I also did a mountain bike ride in Plitvice national park. Nature is splendid, and the riding was great. I would recommend it to anybody. It is a great way to visit a park regardless of your skill level. I am very rarely riding off road and did not have any problems.
Are there some places that you would like to visit, but did not have the time yet?
Oh, the islands, for sure. This year I have visited Vis and had a great time. I did not have my bike with me, so I would like to return to Vis to explore it that way.
Also after riding off road in Plitvice and hearing so many stories about stunning nature, I would like to try some more MTB rides. I find it is a great way to explore nature and reach places that are almost untouched by civilization.
And the last question about extreme sports. As a Frenchman in Croatia how did you live through the World Cup final?
At home, of course! Actually I planned to go to town and soak in the atmosphere, but at the half time decided to stay and endure at home. I liked how my Croatian friends supported their team for the whole 90 minutes, and after they congratulated France on winning. They have a great team to be proud of, lead by one of my favorite players – Luka Modrić.
And after all, now that Croatia won Davis Cup we can say the result is 1-1. And cherry on the top – Luka Modrić got the golden ball.
GPS of Stephane's bike loop on Medvednica/Sljeme