V
eronika Jurišić is a diva of Croatian running movement. She started to run for recreation as a student in the nineties, and now she is one of the most famous female names of Croatian running scene. Always smiling and positive, Veronika is one special person and a runner.
Lady who is always running
Her real running adventure started in summer 2001 when she applied for Sljemenski maraton – a hard mountain race held on Medvednica, a mountain near Zagreb. Back then, road running as an activity and a way of recreation was rare, so everyone in Zagreb knew her as that one lady who is always running.
Together with several friends and her trainer Dragan Janković, the Croatian running guru, they found the Athletic Club Sljeme. Today, AK Sljeme gathers many recreational and semi-professional runners and is one of the greatest running clubs in Croatia.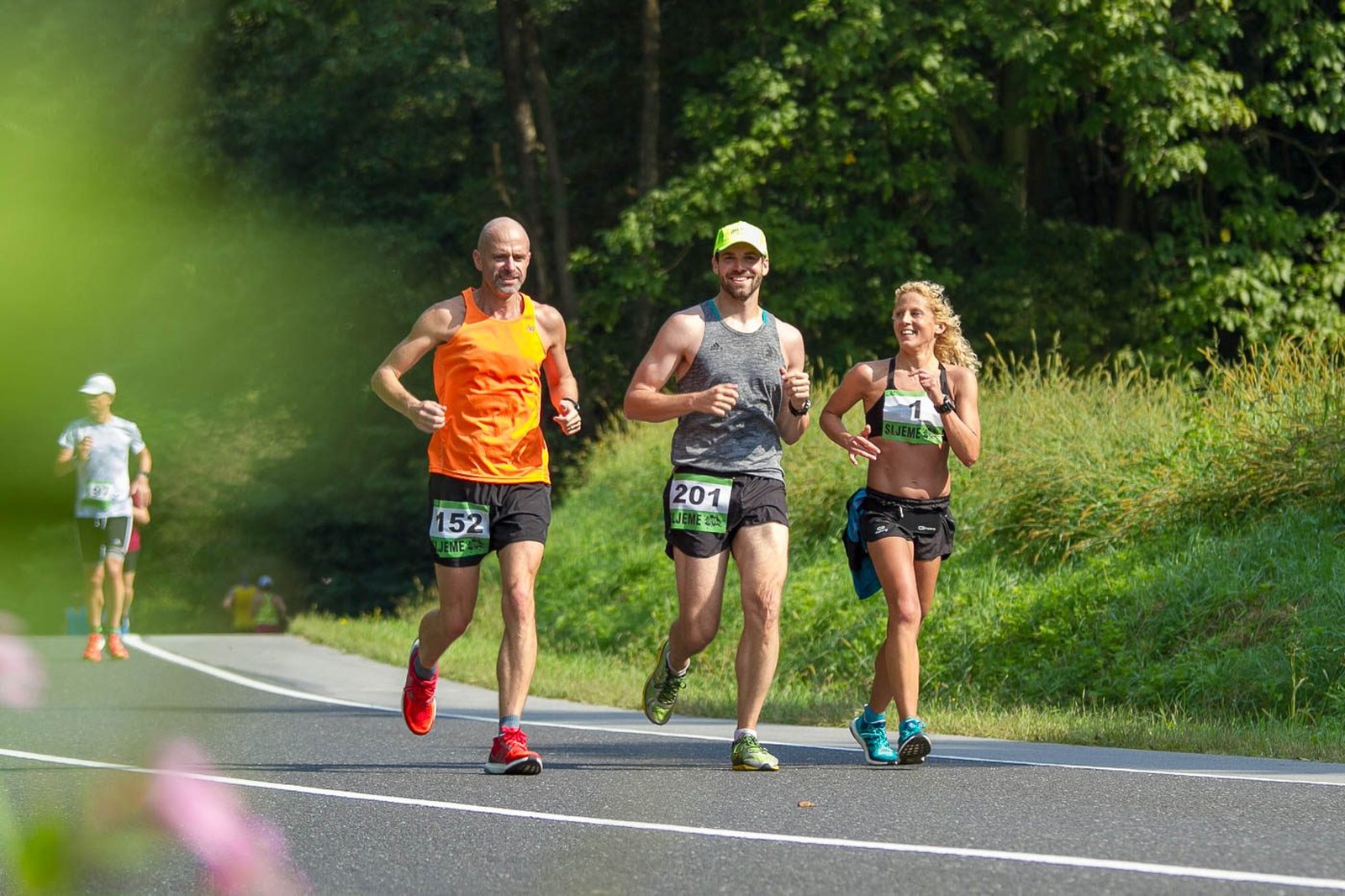 When ►Veronika Jurišić started to run, she never actually stopped. Not only is she running daily, very often she is running twice a day. "People ask me if I run every day, I don't even remember the day when I ran only once. I run every day, almost everywhere."
The results came by itself. Numerous half marathons (PB: 1:21:24), marathons (PB: 2:55:41), all the different terrains: road, off-road, mountains and cities. In time, a marathon was something she could literally run every day, so logically, the next step was ultra. At first, she ran local races organized by her club (Forrest Gump – 100K race in Zagreb), later she started do run international ultra races.
Small country, great ultra-runners
Veronika and her team took part in several World and European 100K and 24 hours championships, presenting Croatia as one of the world's leading ultra-distance countries. Her personal best for 100K is 7:44, and in 24h race she ran 223 kilometers, which put her on top of the world female results.
In 2015 Veronika and her team ran 100K on European Championship in Winchhoten – and they won bronze, in 2016 silver in Spain at 100K World Championship, 2017 in Belfast, girls were seventh at World Championship's 24-hour race, and 2018 World Championship in Croatia – 100K – bronze. It's little to say how great these results are, considering how small Croatia is, and that number of ultrarunners are counted on the fingers of two arms.
Extreme mileage
Veronika works a full-time job, and she is active in her club where she trains new runners. When most of the people use car, bus or train, she – runs! To work, off work, for training, at training, to home… It's nothing strange that in 2017 she ran 13.946 kilometers (8665 miles!) which is equivalent of 330 marathons in 365 days. Almost a marathon per day! You would say that she must be exhausted sometimes, but Veronika replies: "I rest by running. I am lucky, and for years now I don't have any reason to pause running, so I run whenever I can. When people ask me how do you go shopping, I quote world known ultra-runner Dean Karnazes who says that every modern ultra-runner should have all sorts of different backpacks. One big for shopping, smaller for administrative jobs, one for changing clothes, extra shoes, and so on…"
When not racing for Croatian national ultra-team, Veronika and her running friends plan and visit ultra-races around the world, so they ran several times in Italy – 100K race Del Passatore. "This is my favorite road ultra. It's a wonderful travel from Florence to Faenca through Toscana and Emilina Romagna, and in combination with fans cheering in every small town, it really makes it the prettiest road 100K in Europe. There, I feel like at home."
Sparthatlon
Last year Veronika ran legendary Spartathlon in Greece. "I love races with stories, and this is definitely one of the most prestigious ultra distance races considering it's historic meaning."
Also, she travels around the World visiting famous running destinations. "I have a wonderful crew, my friends, marathoners who with I travel and run big cities marathon. Dublin, Milano, Hong Kong, Chicago… That is the part which I really love because, not only do we run big marathons, we get to travel and visit wonderful cities and places."
If you asked someone who knows Veronika to describe her, you'd most likely get a simple answer: She just really loves to run!