Killu Olju is a 39 years old Estonian runner living in Zagreb, but what impressed me the most about her were her Croatian skills. It might not be a surprise that foreigners speak Croatian, but Killu does not have a foreign accent at all and she also uses some slang expressions typical for this region.
By Lana Bunjevac
Besides being a polyglot, Killu is a serious businesswoman, a passionate runner and a devoted mum of two girls, aged 14 and 8. Her family has been living in Zagreb for five years and I met her in Trešnjevka, a part of the city she really grew fond of.
Zagreb life
– We moved to Zagreb because of my husband's work. He works for an international company and we've been living abroad for eight years already; we were three years in Turkey and now we are already five years in Croatia. Turkey is so different from the rest of Europe, the whole culture, religion, traditions… so, when we came to Croatia, it felt like we came home – says Killu, who also managed to learn some Turkish, although she did not work in Turkey because her girls were small and she was much more limited in terms of socializing, which is a first precondition for successful language acquisition.
– I started to learn Croatian at Croaticum, Centre for Croatian as a Second and Foreign Language at the Faculty of Humanities and Social Sciences in Zagreb. I finished one semester and wanted to continue, but then I got the job and had to quit – tells Killu, who now works for the company Ernst & Young. In her opinion, the most difficult Croatian words are ►čistačica (cleaner) and ►čišćenje (cleaning) (although she pronounces them perfectly!) and sometimes she has troubles hearing the difference between đ and dž, but I assured her that there are also many journalists who do not know this difference neither (although they should).
From Estonia to Croatia
Originally, Killu comes from a very small village in North-East Estonia, close to the Russian border. She spent her student years in Tartu and her adult life with family in Tallinn, Estonian capital. She earned her first degree, B.A. in Scandinavian languages and literature, at the University of Tartu, which is one of the oldest universities in Estonia. She studied Swedish and Danish and later, she also obtained an MBA. At that time Killu didn't run at all, she started after she moved to Turkey.
From tennis to running
– I used to take my daughter to tennis lessons and while she was there I had some free time, so I found a nice stadium and started walking laps. I searched on the internet for programs like 'How to run your first 5k' and started to follow those running plans. When I felt more confident and already adapted to Turkey, I started to run in the city, but they are not really used to people running in the streets, especially blonde females, so I stopped quite quickly, because I felt it was not safe – explains Killu, who now runs for some 5-6 years, but not continuously. While being in Turkey, the whole family also started to play tennis and they are all passionate hikers.
– We all played tennis and took lessons with the coach, but tennis means very good physical condition plus it is very technical and it was difficult for me to keep up. My husband got injured then and we couldn't find the players at the same low level, so we're not playing it right now. But we are active, we spend a lot of time outdoors, we go hiking and walking – from Sljeme, Japetić, Okić to Risnjak and Velebit. My husband has been actively riding a bike now, so he's been trying to persuade me to get a bike as well – laughs Killu.
– One of the reasons I actually started running is that it is the best thing when I need to manage my time – I have an hour, I step out, I go. I don't really need to plan too much in advance – says Killu. We also asked her about her favorite running routes in Zagreb.
Running in Zagreb
– When I first started running again, I always went to Jarun and at some point it became psychologically difficult to get those laps around the lake. I like running in the city and this is what I enjoy most. It is difficult sometimes with the traffic and people walking, but I do it later in the evening or in the days when the city is empty. Our life is based around Trešnjevka and we don't get into the center that often, so I like to run to the city to see what's going on, maybe window-shopping – my favorite routes are from Trešnjevka to the back of Ilica, then to HNK and back, or from Trešnjevka to the fountains near National and University Library – lists Killu, whose first official race was 2017 B2B race in Zagreb.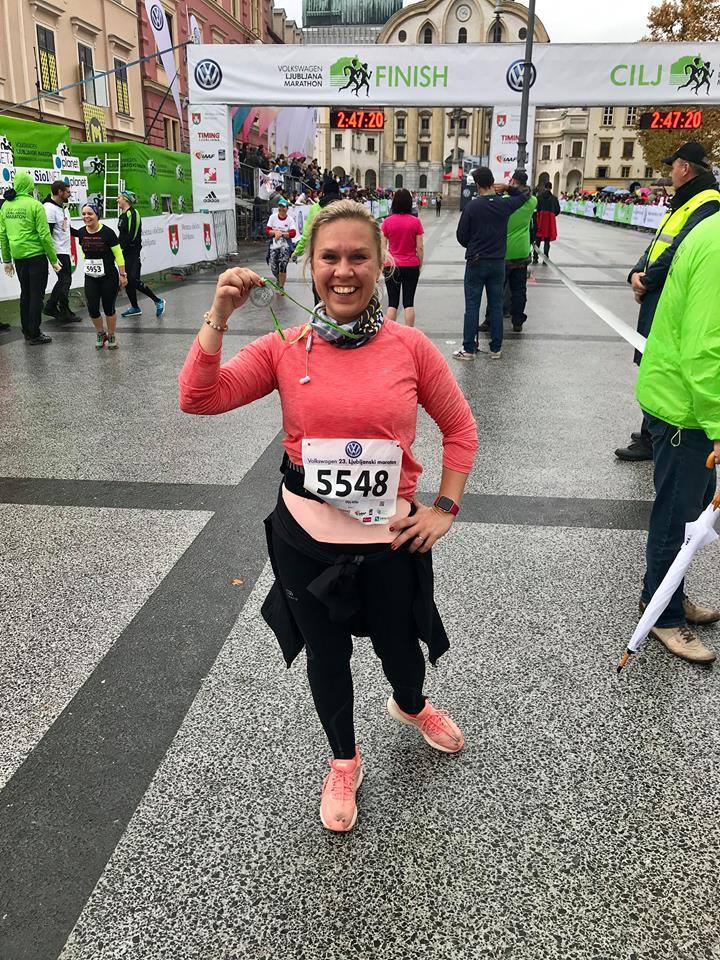 – That race was something that got me back on the track, because the company decided we should participate, so we made a team. We had a quite experienced colleague who had been through running school and had several marathons behind him and he offered to guide us. When I don't have time it is sometimes difficult to find motivation for running, to force myself. But at that point I made a commitment: I had a group, I was belonging somewhere and we had the goal to do this race. We had a lot of fun and it made me feel very good, so I kept on running: we went to Ljubljana, where we ran 10k, we prepared for that race quite seriously and after that I also participated in Starek race and in Advent Run. I liked that one, people were dressed and this is exactly my type of race, because the traffic was suspended, I was in the city center and since I hadn't yet been to the Christmas market, I used this opportunity while running – remembers Killu, who also uses running to widen her circle of friends and she thinks the best part of the race is the after party when you can socialize. She also joined a running group for a while, but, as she said, everybody already knew each other and she felt like she was intruding, so she kept on running alone and with her working colleagues. This year they went to Ljubljana again, where Killu successfully finished her first half marathon.
Is there any difference in the running culture between Estonia and Croatia?
– It is very difficult for me to tell this, because I haven't been living in Estonia for eight years now and when I go there I am a tourist myself. In Croatia I find it difficult to find information about races, how to enroll, about running schools… you have to search extensively to find it. Such things are highly advertised in Estonia, not only running but also biking and roller skate leagues, even some walking events. Here I find it confusing – thinks Killu.
Although running is gaining in popularity in the whole world, the most popular sport in Estonia is still cross country skiing – it has a long tradition, there are many, many marathons during the year and Killu's husband as well as her father-in-law are regular participants. She told me her mother also made her own track in her backyard and I was surprised to hear that this sport is also taught at schools in P.E. classes. And what about Croatian customs? What does she like?
– There are many things we like about Croatia: the weather, the nature, the hills, the hiking, the outdoor life… Of course, there are also things I don't like, such as bureaucracy and the lack of opportunities – Croatia is not such a big country, so the improvements could be much faster – says Killu, who also revealed us that the most wanted souvenir from Croatia this year was – Luka Modrić jersey.