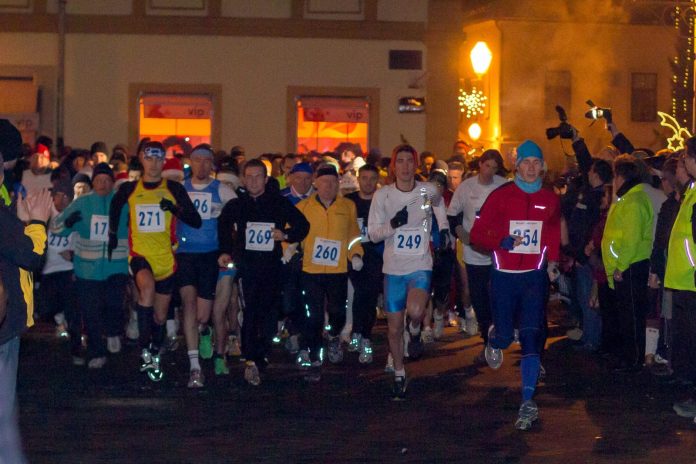 F
or runners, there is no better way to start a year than running. And in Varaždin, a Baroque city in north Croatia, that tradition lives for more than 40 years – in midnight on 1st of January, the starting gun goes off. That makes the city one of the very few cities around the world that enter the year with running.
By Martina Đođo/AiC
The first New Year's race was held in ►Varaždin in 1977, and since then numerous athletes have run those midnight kilometers in the city center. In any case, it is a unique way to celebrate the New Year's Eve and should be experienced at least once. Many runners are aware of that, so every year there are more and more foreign runners coming to Varazdin to start a new year with a good race. In 2018, one-fifth of all runners were foreigners from 15 different countries.
Holiday time in the historic core of the city makes the whole atmosphere festive and romantic. The main square transforms into a white promenade with rich hospitality, exhibit offer, and musical programs. Bright lights, the smell of cooked wine and fine food welcome every visitor while the sound of holiday songs contribute to the atmosphere.
Race info
There are two course lengths – 3.2 K (one lap) for women and 6.4 K (two laps) for men. Of course, you can run whichever race you want not depending on sex, but the prizes are awarded for women on 3.2 K course and for men on 6.4 K course. Speaking of prizes – they are very generous.
Also, the great thing is that there is no starting fee! The race is free for everyone. Information about sign up is usually published on the web page of the race organizers, along with some other info related to the race. Sign up is possible even on a race day at the starting line, all until just one hour before the start.
Bib pick-up is on the main square called Kapucinski trg on the race day, from 9 to 11 pm. This is also the start/finish area. A half kilometer away, at sports hall Graberje, organizers provide dressing rooms for participants.
Christmas time in Varaždin
What makes Varaždin unique is its unique monumental and historic heritage preserved in the intact and opulent Baroque architecture of the historic city core. The charm of the city that has nurtured a pleasant, smart, profound yet cheerful and fun ambiance will certainly not leave you indifferent.
Coming to Varaždin is possible by car, bus and train. The closest airport is in Zagreb, and from Zagreb, there are frequent bus and train lines to Varaždin. The city is also easily accessible from Slovenia, Austria, Hungary… Once you're in the city, you can use city buses to get around. Here you can find a lot of useful information about bus lines, taxies and parking spots. Accommodation offer is listed here.
Of course, the best way to explore the city is by foot or bike – you can rent one. Bikes are the primary mean of transportation for people of Varaždin. You might be surprised to see whole families on bicycles in mid-winter, as the cycling season never ends there.
Varaždin has many beautiful promenades rich with amazing buildings and monuments alongside. You should take some time to visit the Varaždin fortress Stari Grad, some of many palaces, artistic churches, interesting cafes…
Don't be surprised by our next suggestion: visit the cemetery. Unlike other cemeteries, Varaždin's was devised by a visionary soul called Herman Haller, who not only designed a resting place of the dead but an outstanding example of landscape architecture and natural monuments. It is an ideal, restful place for visitors due to the botanic composition of birch, flowers, grass and tall cypress trees, which allows for the delicate play of light and shadow.
Varaždin's everyday life is best experienced on the City market, known as "plac", where you can peek at the intimacy of people and listen briefly to their stories. If your day in Varaždin is a Saturday, be in front of the City Hall at the main square at 11 am when you can see the Ceremonial Exchange of the City Guard known as the Purgars.
And if you just want to relax after a race or as a beginning of a new year, you can visit the oldest Croatian spa, dating back to Roman times – Varaždinske Toplice. At the beginning of the last century, Varaždinske Toplice became one of the most prominent Central European resorts, and today it is a valued thermal riviera with a variety of medical and recreational facilities.
We are sure that you can find everything that runner can wish for a new year if you come to Varaždin – a good race, excellent food, beautiful city and relaxing times!